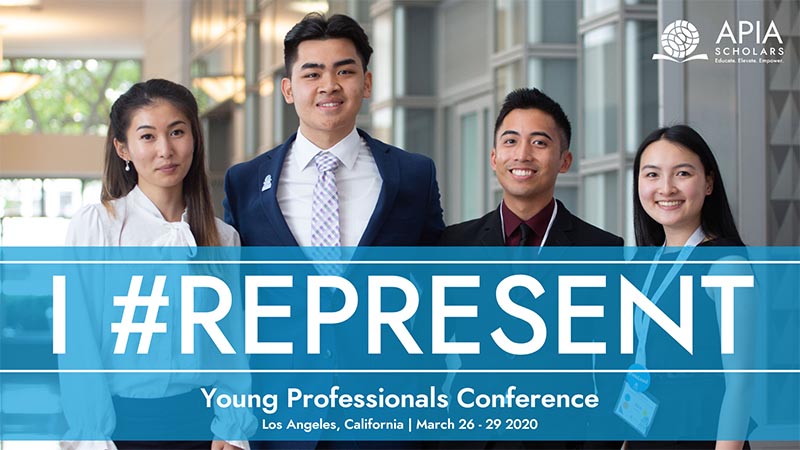 Young Professionals Conference
Location: Hilton LAX Hotel | Los Angeles, CA
Date: March 26 – 29, 2020
Fueled by inspirational keynote speakers, engaging networking sessions, and informative skill development workshop, the Young Professionals Conference will expose the lack of APIA representation in the professions, explore innovative thinking, and provide Scholars and Alumni with strategies to cultivate a career in today's cutting-edge industries. Scholars and Alumni will develop the leadership skills necessary to soar to the top of their professional field and become the next generation of APIA leaders, professionals, innovators, and advocates.
Key Dates:
November 4, 2019: Scholar Application Available
December 11, 2019: Application Due at 11:59 PM PST
Week of December 16: Scholar Selection and Notification
February 3-24, 2020: Pre-Conference Series
March 26 – 29, 2020: Young Professionals Conference
APIA Scholars utilizes 4 pillars to govern our programs: Authentic Leadership, Professionalism, Innovation, and Advocacy. It is our goal that APIA Scholars will develop these qualities as they participate in our programs and grow in their personal and professional lives. Session topics at the Young Professionals Conference will be centered around each pillar.

Session Topics Aligned with APIA Scholars Pillars
Authentic Leadership: Storytelling, Cultural Competency, Leadership Training, Identity Discussions
Professionalism: Salary Negotiation, Diversity & Inclusion in the Workplace, Strategic & Professional Communication, Career Advancement
Innovation: Social Entrepreneurship, Start-Up Planning Workshops, Leveraging Social Media
Advocacy: Community-based Activism, Coalition Building, Ideation Sessions around Social Justice Issues
Scholar Travel Grant
Scholars Residing in the Greater LA Area:

Mileage or Rideshare Reimbursement for Travel to Hilton LAX Hotel
Free Parking
Meal Stipend
Hotel Accommodation with Roommate

Scholars Residing Outside of the Greater LA Area:

Flight to Los Angeles, CA
Shuttle service from LAX Airport to Hilton LAX Hotel
Meal Stipend
Hotel Accommodation with Roommate
Application will be available Monday, November 4, 2019
Applications are due Wednesday, December 11, 2019 at 11:59 PM PST
Be sure to check back as more information becomes available!