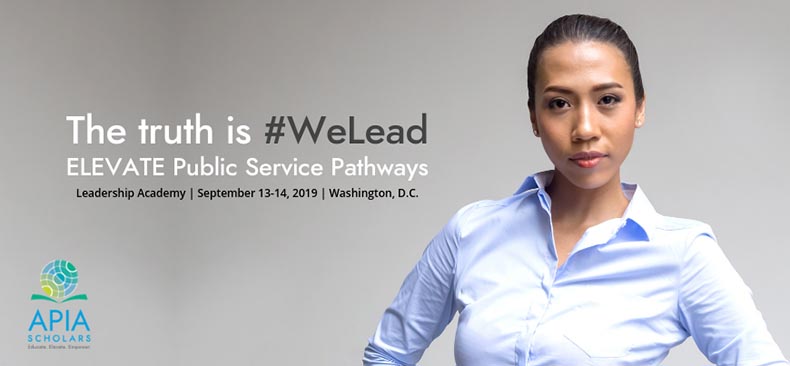 Leadership Academy: ELEVATE Public Service Pathways
Updated: July 31, 2019
The APIA Scholars Leadership Academy: ELEVATE Public Service Pathways program will equip Asian and Pacific Islander American (APIA) Scholars with the resources, skills, and networks required to become the country's next generation of change agents, innovators, and advocates within the APIA community. These Scholars are critical leaders representing the fastest growing racial group in the country. With unique experiences, work place competencies, and passion for service, these Scholars are well poised to contribute to public service in their communities and the nation.
As part of the conversation on leadership among the APIA community, this event will feature a communication campaign and onsite interactive experience titled "The truth is…#WeLead". This concept is based on cultural backgrounds, societal constructs and documented/well-reported studies that show APIA in particular face a unique set of challenges on the topic of leadership in general and in the public sector.
We know "The truth is.." APIA lead in many different ways throughout their lives – our theme is not only a call-to-action, but will provide a platform for our audience, and in particular young emerging leaders within the community to express their unique challenges and truths on the topic of leadership.
We encourage all to share their truths on leadership across our digital social media platforms and onsite with #WeLead.
With a focus on Public Service career pathways, Scholars will hear from experts in non-profit and advocacy, private sector, and government positions. Scholars will engage in sessions designed with the Objectives to cultivate:
Networking within a Community passionate about public service.
Leadership Development that is personalized and promotes one's education & career advancement.
Career Pathways Development into a career in public service and be a competitive job applicant.
Mentorship by experienced professionals who provide personalized guidance and coaching.
Cultural Capital & Service by illustrating the importance of APIA representation on a national scale, and the positive impact a career in public service can have on one's community.
Program Topics:
Building Community and Identity
Understanding Asian and Pacific Islander Americans
Cultural Wealth & Capital
Mental Health
Emotionally Intelligent Leader
Networking Simulation
Wealth Building
Effective Resume & Interviewing
Workforce Readiness
Public Service Opportunities & Pathway
Key Dates:
August 5-30, 2019 | Mentoring Sessions
September 13-14, 2019 | Leadership Academy Event in Washington, D.C.
*(Special note: September 13, 2019 event date will be located at Capital Hilton; September 14, 2019 event date will be located at Ronald Reagan Building)
**Full program agenda forthcoming