Professional Mentorship Program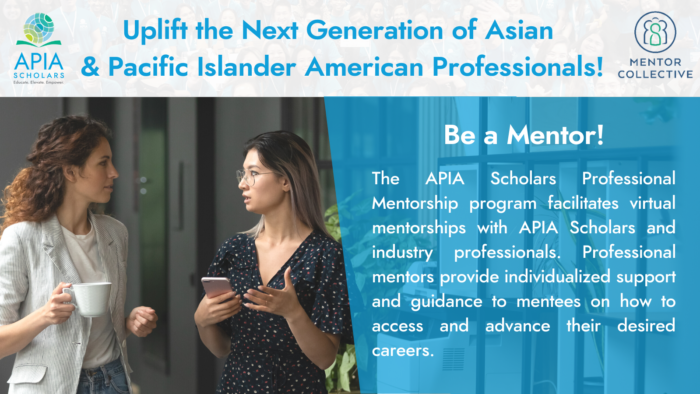 The APIA Scholars Professional Mentorship program facilitates virtual mentorships with APIA Scholars and industry professionals. Professional mentors provide individualized support and guidance to mentees on how to access and advance their desired careers. This program allows for meaningful connection and skill development to empower the next generation of APIA leaders.
Professional Mentorship Program Timeline
February 16– April 1: Mentor Recruitment & Registration
March 1 – April 1: Mentee Recruitment & Registration
April 15, 2021: Mentee Orientation Training
April 1 – October 31: Monthly mentorship meetings
July 15: Mid-Program Survey sent to mentors & mentees
October 15: End of Program Survey sent to mentors & mentees

* Mentors are professionals in any field with a bachelor's degree or higher or 5 years of work experience who are interested in supporting the professional aspirations of APIA Scholars & Alumni
Who can be a Professional Mentor?
Professionals with a Bachelor's degree or higher OR at least 5 years of work experience who are able to participate in at least 1 virtual mentorship session per month between April and October. Mentors should also log conversations with mentees on the Mentor Collective dashboard.
What resources or support are provided to Professional Mentors?
Professional mentors are required to participate in a 1-hour virtual training session conducted by our partners at Mentor Collective. Multiple days/times are available for mentors.
Resources and session guides are available on the Mentor Collective dashboard to help guide your mentorship conversations.
Reporting features allow Professional Mentors to escalate Mentee concerns to APIA Scholars staff who can provide individualized follow up.
Are there particular fields or industries where Mentors are most needed?
Mentors in all industries are welcome. We have a high need for mentors in the healthcare, STEAM, and business industries.
Who is Mentor Collective?
Mentor Collective is a partner of APIA Scholars who seek to make life-changing relationships a feature of every college student's experience. To realize this vision, they partner with forward-thinking institutions [and organizations] that are committed to equity, inclusion, and relationship-centered education.
Please view the Mentor Collective FAQ's for more information.
Mentor Quotes:
"I believe we need to pass on knowledge and share experiences to help each other grow. I also learn a great deal from mentees. They help me stay relevant and give me inspiration to learn new things.
My parents were both born and raised in the Philippines and my mom earned her college degree there."
— 2020 Professional Mentor

"When I was applying to college in the United States, it was a very confusing time filled with so many unknowns. I didn't have anyone that could answer my questions. I want to be able to support those that were just like me in that situation. Also, I have struggled with balancing family life and my career for a long time now. I understand the pressure from parents and familial obligation that many APIA students, especially first-generation ones, must often deal with. I relate strongly to these students and want to help them as well."
— 2020 Professional Mentor

* Mentees are APIA Scholars and Alumni who are 3rd-5th year undergraduate students, graduate students, and working professionals who are seeking professional guidance and support.
Who can be a Professional Mentee?
APIA Scholars & Alumni who are currently 3rd – 5th year undergraduate students, graduate students, or working professionals who are driven to develop professional skills to advance their career goals. Mentees should be able to participate in at least 1 virtual session with their Mentor per month and attend 1 of the 2 Mentee Training sessions offered in April.
What can I discuss with my Mentor?
Professional Mentors can support Mentees with a variety of professional development topics. They can support resume writing and interview prep, refer job searching techniques, provide networking tips (and connect you to their networks!), help to navigate a career pivot, and much more!
Who is Mentor Collective?
Mentor Collective is a partner of APIA Scholars who seek to make life-changing relationships a feature of every college student's experience. To realize this vision, they partner with forward-thinking institutions [and organizations] that are committed to equity, inclusion, and relationship-centered education.
Please view the Mentor Collective FAQ's for more information
Mentee Quotes:
"It was easy to share and confide in my mentor. she goes out of her way to share useful knowledge that she's gained over her years and encourages me to be the best that I can be."
— 2020 Professional Mentee

"My mentor has been such a great asset to my personal and professional goals. Not only
does she understand my positionality, but also supports me in whatever I choose to do."
— 2020 Professional Mentee